Networking Breakfast – sponsored by Preftech
Monday, September 27 | 7:30 – 8:00 a.m.
Get an early start at on day 1 of the conference with a light breakfast and casual networking.

Networking Event with Exhibitors
Monday, September 27 | 4:00 – 5:00 p.m.
Network with your peers and be part of the action! Gain insight on the latest tools and technologies to help you in your business.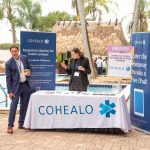 Welcome Reception – sponsored by Cohealo & Preftech
Monday, September 27 | 5:30 – 7:00 p.m.
Enjoy the conclusion of day 1 with a relaxing end to your day. Enjoy light appetizers, drinks and fun in our themed Welcome Reception, sponsored by Cohealo and Preftech. More information to come.

Networking Breakfast
Tuesday, September 28 | 7:30 – 8:00 a.m.
Get an early start at on day 2 of the conference with a light breakfast and casual networking.

Sunset Catamaran Cruise*
Tuesday, September 28 | 4:30 – 6:30 p.m.
Come sail away with us! Join your peers on a sunset Catamaran cruise around San Diego's picturesque waters. Take in the sights on the outer deck or enjoy 360-degree views from within the luxurious interior salon during a 2-hour cruise including food and beverages.
*$85 per person (food and beverage included) (Guest tickets available)

San Diego Dine-Around
Tuesday, September 28 | 5:00 – 9:00 p.m.
Called one of "America's Best Cities for Foodies" by Travel & Leisure magazine, San Diego's culinary scene is a burgeoning, vibrant mix of locally inspired flavors, from delightfully simple to artfully sophisticated. As a conference attendee, you can hop in a complimentary, round-trip shuttle from the Sheraton San Diego Hotel & Marina Lobby to the lovely downtown neighborhood of the Gaslamp District. Home to more than 100 of San Diego's top restaurants, you can partake in informal dining experiences throughout the area.
To discover everything the Gaslamp District has to offer, visit www.gaslamp.org

Networking Breakfast & Keynote Presentation – sponsored by LeanTaaS
Wednesday, September 29 | 7:30 – 9:00 a.m. 
As health systems have grown inorganically, they naturally ended up inheriting varying practices, procedures, policies, and systems across locations and regions. This lack of "systemness" across the system has led to an inconsistent patient experience, higher costs, and missed opportunities for improved financial performance. Adopting a systemwide electronic health record alone doesn't achieve or define "systemness," nor do cross-team huddles without the right tools.
Achieving systemness, particularly in perioperative services, requires aligning the right people, processes, and policies around a common set of technologies. Without the right technology, systems cannot realize economies of size or scale, and they cannot identify true best practices. Invariably, millions of dollars of unused OR capacity remain on the table. Learn how your organization can tackle the challenge of achieving perioperative systemness.
What you will learn
Describe why "systemness" is needed to deliver a consistently high-quality patient and surgeon experience, facilitate growth, and lower costs.
Discuss myths and best practices for adopting tools, processes, and policies that enable "systemness."
Discuss the importance of process standardization, transparency, and collaboration across departments and facilities within the broader provider's ecosystem.